The Top Five Essential Features of a Mobile Member App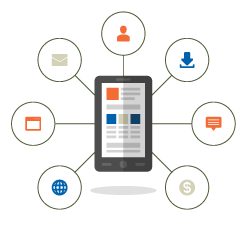 By providing your members with a mobile member app, your Association is offering so much more than easy, direct access to your Association's office.
Mobile apps, downloadable on any Apple or Android mobile phone or tablet, create a brand new multimedia channel for retaining and engaging your members, especially those who already are active mobile users.
While people of all ages use mobile apps, a mobile member app will often appeal to younger members. However, even older members appreciate the ease of using a mobile app on their smartphones or tablets.
Download Why Mobile Matters to learn how mobile app technology can benefit your association.
The benefits of a mobile app for your members:
They feel more connected to the news and information about their Association. As a result, it can lead to an active membership and greater retention.
They feel they have a role within the organization by participating in an online community.
They are more likely to view the Association as a technology leader for both members and the community.
A mobile app designed for your members should be easy-to-use and readily available on major platforms. The app should feel intuitive to use and navigate.
The top five essential features of a mobile member app are:
1. Push notifications from your Association to members
2. The ability for members to update their own profiles, contact information
3. The opportunity to connect with other members
4. The ability to register, pay and check-in for events and other Association activities
5. Easy access to post and view jobs, hot deals and member-to-member specials
Remember, all members are not alike. We don't all share the same preferences on how to receive information, including communication from your Association. Some may prefer an email notification, while others prefer a text or a push notification, for example.
Download Why Mobile Matters to learn how mobile app technology can benefit your association.