How To Maximize Your Time at a Conference
Taking days out of the office for a conference is expensive. If you're going to spend money and sacrifice a valuable chunk of time, it had better be worthwhile.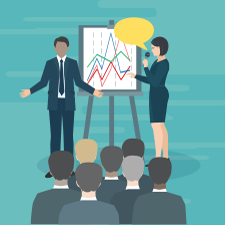 We came across a great article with ideas to help you measure the value and make the most of your conference investment. We've shared two of them here:
1. Extract one key takeaway from every presentation you attend.
Each presenter at a conference has his or her own style. Some people tell a story, sometimes there is a video or set of images, and sometimes there is a full slide presentation.
Download STOP Data Entry Madness, and learn
how to increase your Association's day-to-day efficiency
Given our short memories and the great amount of stimuli, it is important to distill each presentation down to a central point.
After each presentation, ask yourself what struck you, what did you learn? Perhaps there was a specific tip that you could adapt in your own work – or some piece of counterintuitive advice that really resonated with you.
If you write anything down during a conference, make it the one key takeaway from each presentation that is worth additional consideration upon your return to real life.
2. Plan private gatherings with like-minded folks.
Conferences are more than just the program itself; they are an assembly of like-minded folks with great intention.
How often do you get uninterrupted time to discuss matters of interest with industry peers from around the world? Many frequent conference-goers claim that their greatest conference experiences happened during the "downtime."
Don't leave these benefits up to chance. Reach out to your contacts before the conference and propose grabbing an early breakfast together, lunch, or drinks during the conference. Encourage each person to invite 1-2 people that they deeply respect, thus broadening the potential of the meeting.
A simple dose of stimulation isn't worth the price of admission; attend your next conference with high expectations and make the effort to reach them.
For more tips on networking at events, check out our blog post Business Cards Are Not Customers.
Source: Scott Belsky, 99u.com
Download STOP Data Entry Madness, and learn
how to increase your Association's day-to-day efficiency